Share the Official #MAIC2014 Promo Video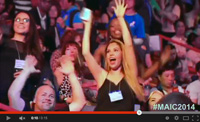 We're humming with anticipation for the 2014 International Convention, and with it only one month away, it's a great time to help build the excitement.
Watch and share the official 2014 International Convention promo video with your business partners and prospects, and you never know who might be ready to change by experiencing firsthand the most powerful business opportunity around.
The video is 15 seconds long, so it's perfect for Instagram, but great for sharing on Facebook and Twitter as well. Use hashtags like #areyoureadytochange, #businessopportunity and, of course, #MAIC2014 to make your post targeted and searchable.
Click here to share the video via YouTube, or download the video to share on Instagram by clicking here.