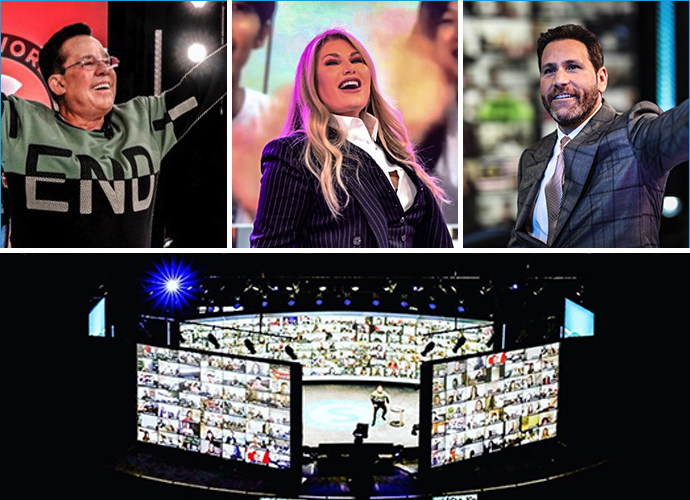 #MAWC2021: Be Inspired to Create Your Own World
The Market America Worldwide | SHOP.COM Online 2021 World Conference was a powerful event packed full of news and tools to elevate every UnFranchise® Owner (UFO) to new levels of success. The Market America Executive Team and field leaders reminded everyone that the UnFranchise Business is the right opportunity for any time, no matter the challenges you may be facing. They encouraged everyone to make this your year by unleashing your potential, your passion and your determination. The presenters recognized remote attendees with shout-outs, and UFOs danced and cheered as if they were all in an arena together.
Co-Founder and Senior Executive Vice President of Market America Worldwide | SHOP.COM Loren Ridinger kicked off the event by sharing how much she loves interacting with the audience and reminding everyone of the importance of human connections. She told everyone how impressed she has been with the way UnFranchise Owners have adapted and overcome obstacles by supporting one another and encouraged everyone to consider 2021 as their chance to rise above. "If you're ready to leave 2020 behind, it's more important than ever that you take massive action," she said. "Your thoughts will tell you what you want, but your actions will determine what you get."
Loren also took time to recognize the loss of a very special member of the Market America family. Howard Spector, who was the announcer and producer for Market America's events for the last 29 years, passed away just days before the event after a battle with cancer. A moving tribute video that honored Howard's life and his special relationship with Market America brought many attendees to tears.
President & COO of Market America Worldwide Marc Ashley took the stage and focused on health and wellness. He emphasized how the company was already well positioned to meet the challenges of a world newly hungry for products that support immune health. "In hindsight, 2020 revealed to us all the distractions that prevented us from focusing on what is important, such as self-care," he said. "Please take care of number one first." Marc announced several new revolutionary health products to help UnFranchise Owners light a fire under their sales.
During Saturday's session, Marc put the UnFranchise Marketing App on rocket fuel when he introduced new features that are sure to take everyone's UnFranchise Business to the stratosphere. "This is going to drive more volume to your business than anything we've ever seen," he said. Marc introduced two new trial-sized marketing products to the sales arsenal with the addition of Lumière de Vie® Needle-Free Serum Trial-Sized Marketing Packs and Prime™ Sleep Trial-Sized Marketing Packs.
As if these powerful new products weren't enough, Marc wowed attendees when he introduced the UnFranchise Marketing App's newest feature, an amazing breakthrough called SHOP LIVE that will be available in all Market Countries on July 1. This personalized shopping channel includes an exclusive social sharing platform to invite your customers and prospects to watch. (Learn more below in the New Initiatives section.)
During his presentations, Founder, Chairman & CEO JR Ridinger shared his history working for other companies and how he fixed everything that was wrong with their business models and figured out that the lowest multiplier for business success is two, then built his own business model around that concept. JR reminded UFOs that the UnFranchise Business is adaptive and solution oriented. "Problems are the catalyst for change and invention," he said. "The UnFranchise Business adapts to be a solution to almost any situation." He said problems are simply stepping stones to your dreams, and that you need to protect your dream fiercely.
"We have what nobody else has," he told attendees. "We have people power, the greatest power in the world. We create our own world!" He reminded everyone that you have to actually leverage that power to change your life by sharing the UnFranchise Business. "All you have to do is be proud of it and tell them! Get proud of it. We have everything!" he said.
Maria Checa, Motives® Creative Consultant, discussed all things Motives. Maria introduced the Motives® Super Power Mattes Eye Shadow Palette. Inspired by our very own superhero, Creative Director and Founder of Motives®, Loren Ridinger, this palette packs a punch of powerful mattes to supercharge your look. She also highlighted the new Motives Virtual Try Me feature, now available on motivescosmetics.com and UnFranchise.com. "This is a game changer," said Maria.
Executive Vice President of Market America Worldwide | SHOP.COM Dennis Franks took the stage like only he can — energetically dancing with one-of-a-kind moves! "How many of you have put sweatpants on for the last year with a blouse or suit jacket for a Zoom meeting?" asked Dennis. 2020 might have been the year of sweatpants, but it didn't stop the TLS® Weight Loss Solution from growing. Dennis highlighted record-breaking sales in Taiwan, Singapore and Malaysia within the past year and encouraged all UFOs to use new TLS Thermochrome™ V6 to make progress with weight loss goals and keep growing.
Dennis and Vice President of Sales Jim Winkler brought UFOs back to the basics with their presentation on implementing Base 10, Seven Strong. Focusing on teamwork, they encouraged UFOs to implement result-producing activities, know their communities and help create a culture that believes working together results in greater success.
Jim and Executive Vice President of Asia-Pacific Kevin Buckman shared how important it is to create accountability within your team. They encouraged teams to create a culture of shared beliefs, values, behaviors and typical practices of accountability. "You need to be what you want your people to be," Kevin advised. "You are accountable to something that is bigger than you: the team."
"Like an eagle with strength of heart and clear vision, you have ridden the currents of belief, loyalty, respect, credibility and the love of the Market America opportunity. You have soared into and through the storm's fury, enabling those that follow to again believe their dreams can come true" reads the inscription on the 2021 Jerry Siciliano Award and couldn't be truer of this year's winner: Min Liu. Marc and Loren made the announcement on the final day of the Market America | SHOP.COM 2021 Online World Conference.
In her acceptance speech, Min thanked JR, Loren and the entire Corporate Team for the tremendous honor. Twenty-three years ago, Min came to the U.S. from China with her daughter (Olivia Li) and joined Market America a year later. She wanted to give her daughter and parents a better life. She had no car, no money, couldn't speak English, but she had a dream. Min joked that she learned "Market America English," and she embraced the new opportunity. Despite recently battling cancer, Min continues to thrive and said she is grateful to her family and team for all their support.
Recognition is important to Market America. The company respects, acknowledges and congratulates UnFranchise Owners for their achievements, as shown in several recognition segments throughout the weekend. Each UnFranchise Owner who reached a new UnFranchise Level was honored by Vice President Andrew Weissman and Vice President of Sales Jim Winkler. Million Dollar Club members were celebrated, and challenge winners received awards that signify their dedication to achieving success.
On Sunday, President of Urban and Latino Development Joseph "Fat Joe" Cartagena reminded the crowd that in life, consistency is key, and that just by simply looking inside themselves at who they truly are, they would know they have what it takes to succeed.
International Field Chairman Elizabeth Weber-Walliser showed why she's one of the company's top field leaders with a dynamic presentation Sunday that clearly spelled out her 10 strategies to build an UnFranchise Business using the networking power of Zoom. She said Zoom lets you gather your team to facilitate imprinting and therefore successful building.
"It's never been easier, it's never been more powerful, there are no boundaries whatsoever," she said. "You can build faster than ever. I hope to see everybody live in August, but I'm going to continue to use Zoom."