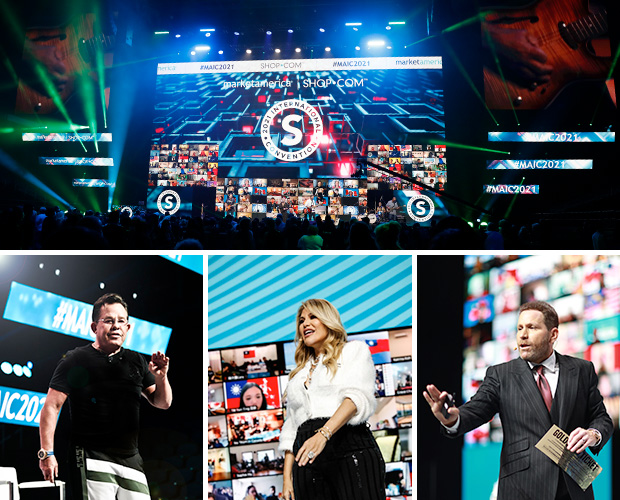 #MAIC2021 in Review: Write Your Next Chapter
From Aug. 26–28, thousands of entrepreneurs from around the world experienced the Market America Worldwide | SHOP.COM 2021 International Convention (#MAIC2021) from the comfort of their own homes or, once again, in person at the Greensboro Coliseum in Greensboro, North Carolina. Following current health guidelines, this year's International Convention was held as a hybrid event, allowing entrepreneurs worldwide to experience the next chapter of business innovation. The event was an impactful, interactive experience that revealed several groundbreaking new products and featured a host of powerful presentations.
On Thursday, Co-Founder and Senior Executive Vice President of Market America Worldwide | SHOP.COM Loren Ridinger kicked off the event by inspiring the audience to take charge and make progress to step into the next chapter of their lives and businesses. She said this next chapter is all about one word: progress. Progress = happiness and happiness = progress, Loren explained. "When we're not happy, it's because we're not progressing," she said. "I'm going to open the door to my future. I'm going to take a deep breath, step on through, and start a new chapter of my life. This chapter begins with me taking charge. This chapter says go for it. Do not wait."
Executive Vice President of Market America Worldwide | SHOP.COM Dennis Franks, Executive Vice President of Asia-Pacific Kevin Buckman, Vice President Andrew Weissman, and Vice President of Sales Jim Winkler then gathered on stage to give the audience the best foundation to build that next chapter by each presenting one of the four cornerstones of the UnFranchise® Business.

President & COO of Market America Worldwide Marc Ashley then took the main stage to announce a number of new and relevant exclusive Market America products, including Neuro Focus Alertness, Attention + Focus™, Heart Health™ Blood Pressure and Vascular Support and Shopping Annuity® Brand Premium Wellbeing Tea. On Friday, Marc brought even bigger news to all attending #MAIC2021 by giving new details about enhancements to SHOP LIVE, the virtual, interactive, livestreaming shopping experience that he has called "the biggest and best tool" the company has ever released. But the next chapter for SHOP LIVE was not the only update to the UnFranchise Marketing App. "We're gonna pour gas on the UnFranchise Marketing App," Marc said. "We're going to give the UFO all the intelligence insights they need to market to customers. In development right now is a program called Pulse. This new feature will allow you to keep your finger on the pulse of a customer." (See the New Initiatives section below for more details about SHOP LIVE and Pulse.)
At an #MAIC2021 booth in Greensboro that was also available virtually to online attendees, UnFranchise Owners were able to see firsthand how to set up the clickable in-video icons for their SHOP LIVE livestreams. These clickable icons let livestream guests purchase products with "buy-it-now" buttons, receive additional product information, schedule follow-up appointments and access other customizable, interactive features for a fun, social and friction-free experience.
Also new for #MAIC2021, attendees were able to connect with experts at the Sezzle booth. Sezzle is the highest-rated "buy now, pay later" online payment provider that allows online shoppers the convenience of paying in four easy installments over six weeks with zero interest. Marc encouraged UnFranchise Owners to use Sezzle as a great way to purchase their three tickets for #MAWC2022.
After Marc's action-packed presentation, Motives® Creative Consultant Maria Checa introduced the new Motives Sublime Collection. The collection includes three incredible new products: the Sublime Eye Shadow Palette, two shades of Sublime Luminizing Jelly and the Motives Hand-Held Mixing Palette. She also announced two new shades for the Motives Lip Kits; Déjà Vu — a universally flattering vibrant pink, and Romance — a dreamy nude pink.
La La Anthony, Actress, Author & Entrepreneur, joined the event via video to announce new shades from the Motives L A L A line. UFOs can now preorder the new Motives L A L A Liquid Lipstick in Cinnamon & Spice, Dream On and I Dare You.
Recognition is important to Market America. The company respects, acknowledges and congratulates UnFranchise Owners for their achievements, as shown in several recognition segments throughout the weekend. Each UnFranchise Owner who reached a new UnFranchise Level was honored by Andrew and Jim. New Million Dollar Club members were celebrated, and challenge winners received awards that signify their dedication to achieving success.*
During her segment on Thursday, Dr. Deedra Mason, Vice President of Product Development & Clinical Education, encouraged listeners to focus on building small, healthy habits and prioritizing a daily regimen to help maintain longevity. Guest Dr. Tamara Weinstein said that anti-aging is a "fantastic starting place," but noted that it's key to eat healthy, exercise, get a good night's sleep and manage stress. Guest Gary Brecka, human biologist and researcher, wowed the audience with his special breathing techniques. Gary explained that by dedicating time to breath work you are maximizing the capacity of the blood to carry oxygen, and that is realized in energy throughout the day, cognitive wellbeing and even a better night's sleep. Breathing exercises, even if only for a minute, can have an impact on heart rate and emotions. Gary emphasized the importance of "simply taking a breath" by encouraging everyone to participate in a dynamic breathing exercise so they would be able to feel the impact of making healthy habits every day. "Think about what you can do to impact someone's wellbeing and you can be wealthy," he said.
The emphasis on health continued as Dennis and TLS® Director of Sales Melanie Nelson spoke about how the TLS division of Market America continues to help thousands of people change their lifestyles. They discussed the new and improved Fast Start Kit as the way to get your new partners out of the gate strong. They also introduced the TLS 7-8-28 Challenge, which begins Sept. 20.
Later, Dennis informed the audience about the Market America University — a systemized approach to providing professional levels of education for all UnFranchise Owners. He introduced The Market America University Digital Orientation Catalog, a catalog that provides all the information you need on different university majors and their missions.
Jim then hosted a panel discussion on how to build an UnFranchise Business most effectively. The panel included Director Don Martin, National Supervising Coordinator Emily Pennito, Professional Coordinator Marc Bernacchi and Supervising Coordinator Aleksandra Cummings — all of whom, Jim noted, consistently achieve Master UnFranchise Owner. Jim asked the panelists to discuss topics like how to handle rejection and how to approach people. All the panelists agreed you need to show genuine interest in others and build relationships. And you have to find people who are able and will lead to other people.
Mark Walker, a former U.S. Representative for North Carolina's 6th congressional district, joined Andrew and Jim at the start of Day 2 to greet attendees. A supporter of entrepreneurship, he spoke about adversity versus opportunity and how one handles the former determines how the latter will turn out. "You can choose to be bitter or you can choose to be better. If you're willing to overcome the obstacles, your life can be better," he said.
In one of the most anticipated presentations of the weekend, Loren kept the inspiration coming as she took the stage once more and got personal about the difference between having dreams and reaching them. "When other people are living their dreams, it's because they are doing the things that get them the results," she said. "They're not coming up with excuses or reasons why they can't."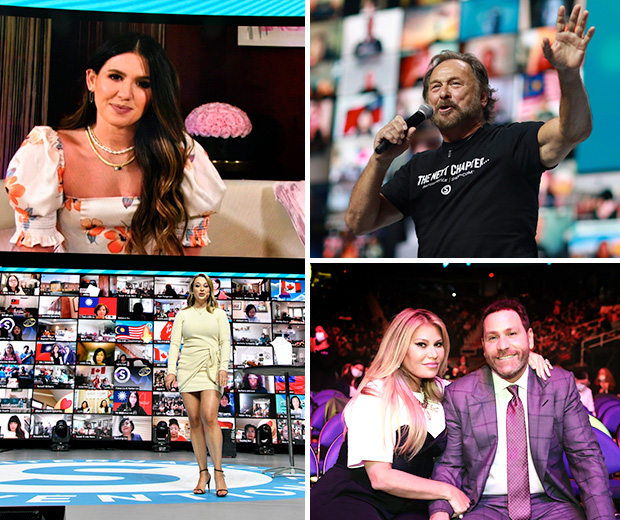 Amber Ridinger-McLaughlin, Creator of Lumière de Vie®, DNA Miracles® and Layered, and Kim Ashley, Director of Motives Cosmetics, Skincare & Layered, presented the jewelry line that everyone is obsessing over — Layered. Models took to the stage to showcase the newest additions to the line, which is the largest product launch of any product line in Market America history — 52 pieces in total! Amber and Kim later returned to the stage to discuss the power of the Lumière de Vie line, and a model completed a live demonstration of a sample skincare routine while Amber and Kim provided their tips and expertise to help attendees understand how to build a regimen.
Founder, Chairman & CEO JR Ridinger took to the stage on Friday afternoon and talked about how disruption can create opportunity and lead to acceleration. JR likened the event to Noah's ark — the beginning of the next chapter. Walking two-by-two onto the ark is like building two legs of the business and forging a strong foundation for your future. He reminded the audience that all they need to do is make progress, because progress leads to happiness. He also made an announcement that immediately made the crowd happy: Beginning this October, if you achieve Master UnFranchise Owner status, you'll receive six months of free shipping!
President of Urban and Latino Development Joseph "Fat Joe" Cartagena was once again inspiring as he stressed the importance of being surrounded by encouraging people who offer you hope, then turn it around and provide that same help to others.
When Steve Ashley, President & COO of SHOP.COM, took the stage on Saturday, his excitement was palpable. He emphasized many of the company's recent improvements, including the ever-growing list of Partner Stores, the selection of new egift cards, the addition of a personal video to a SHOP.COM eGift, the recent search and personalization improvements on UnFranchise.com and SHOP.COM, and more. He explained how important the company's new partnership with Sezzle is, saying, "The younger generation is really loving the opportunity to pay in four payments over six weeks! It's amazing!" Steve also talked about the UnFranchise Business App and how adding all company audios to the app, as well as its notifications, reports and more, are key to UnFranchise Business success. "Go download this! It's available in every country!" he encouraged the enthusiastic crowd.
But the most thrilling part of Steve's presentation was when he officially announced the use of cryptocurrency as the next chapter in purchasing products on SHOP.COM. "Today, I'm announcing that SHOP.COM is going to be offering Bitcoin, Ethereum and several other cryptocurrencies through BitPay," Steve said. "We went with BitPay because they are the industry leader. They are the world's largest in Bitcoin and crypto transactions."
"This is not just the wave of the future," he explained. "This is the now, the later and the soon to be. This is everything!" These forward-looking digital currencies are now accepted on SHOP.COM in the U.S. and Canada, and that option will be available in all Markets in the next few weeks. Steve also added, "Once we open it up internationally, we're also going to put it on UnFranchise.com — so you can start your UnFranchise Business with this currency!" He then went on to say that this implementation is only the first step in a four-phase process and enticed attendees with the promise of more news to come at future events. (See the New Initiatives section below for more information about Sezzle and BitPay.)
Saturday's business-building session saw JR and Andrew reflect in depth on topics they had touched on during their UnFranchise Business Presentation on Wednesday. "One of the biggest mistakes we make is spending time and energy with the wrong people," Andrew said; JR noted that the most important thing to consider during the evaluation process is if a prospect can and will lead to other prospects and to customers.
In a unique segment, JR and Andrew then watched along with convention attendees as a group of successful UFOs from International Field Chairman Elizabeth Weber-Walliser's team conducted a follow-up session to a UBP, with prospects, live on Zoom and projected on the big screen behind them. UFOs on the follow-up included Professional Coordinator Deborah Grigas, who led the session; Senior Master Coordinators Deborah Anderson, Tina Rose and Pamela Valentine; and Executive Coordinators Grace Knodt and Samantha Phillips. Andrew ended the segment by pointing out that "there is nothing you saw in that demonstration, nothing you heard, that you cannot do."
With his usual energy, humor, passion and vast knowledge, JR closed the convention by returning to his metaphor of the ark, saying, "Welcome to my ark. We're going to fill it and take off, and we are the escape, and we are the solution." Using the hashtag #GSD for "Get Stuff Done," he reminded everyone that it's time to take action because progress = happiness. He reiterated the importance of not getting stuck in a rut and that time is running out. "You've got everything to gain and nothing to lose," he said. And he also emphasized to the mesmerized audience that everyone has a problem of some kind, and UFOs likely have the solution to that problem … because the UnFranchise Business is a modern-day miracle and no other business has what it has.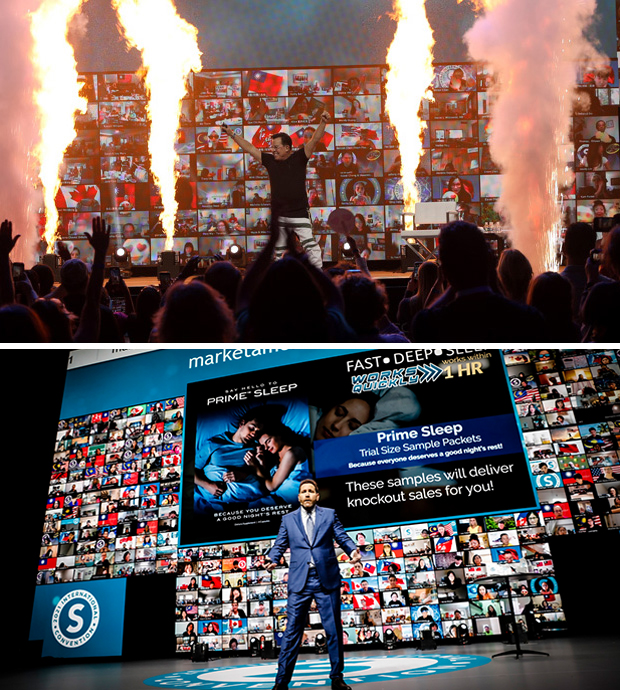 JR continued to drive home the point that taking action is everything. "At some point, you have to realize that you can be a brain surgeon and operate on people's thinking," he said. "Try or cry! If you're not going to try, don't cry. That's the bottom line. Because we're going to take all of your excuses away!" By setting daily, weekly and monthly goals and tasks and striving to complete them, you're already on the road toward success. But he also pointed out that the business is not drudgery, but fun. "You're good at having fun! You like to have fun!" he said. "And when it's fun, you won't stop!"
JR finished his inspirational presentation with, "You have a dream, a goal, a mission. You didn't have to come here, but you planned, and you prepared, and you traveled — and I appreciate you for that! Thank you for coming!"
It was an evening of recognition and special awards that recognized the top UnFranchise Levels in the company as well as the event's challenge winners. Award winners accepted their awards both in person and via live stream. Special award winners are as follows:
WebCenters Certified Trainer of the Year: Chwen Lim
Shop Financial Elite Representative of the Year: Charlie Baer
Motives Trainer of the Year: Jacqueline Menconi
Motives Beauty Advisor of the Year: Melody Sopa
nutraMetrix® Consultant of the Year: Pamela Cleary
nutraMetrix Health Professional of the Year (Allied HP): Lisa Wang
nutraMetrix Health Professional of the Year (Medical Doctor): Dr. Joseph and Rebecca Carfi
TLS Trainer of the Year: Lu Yen Chih
TLS Coach of the Year: Susan Markowitz
Certified Trainer of the Year: Wei Ding
Top Retailer of the Year: Christopher Sarli
Fastest Growing UFO: Chen Jou Pin
Top Organizational Builder: Chen Jou Pin
Top Organizational Builder: Lin Wanting
Market Country of the Year: Market Taiwan
Celebrity guests and close friends of JR and Loren took part in International Convention both in person and via video conference, and for the first time ever, #MAIC2021 hosted a live Saturday Night Celebration featuring Grammy-nominated artist and entrepreneur Fat Joe who rocked the night away along with DJ Nasty. Dennis and his band, The Gypsy Drug Store, also brought down the house with their phenomenal performance, and Loren joined in for several numbers. DJ M Dot helped get the crowd dancing. The party was open to all in-person attendees and streamed for the online audience and was an exciting, celebratory way to end the action-packed weekend.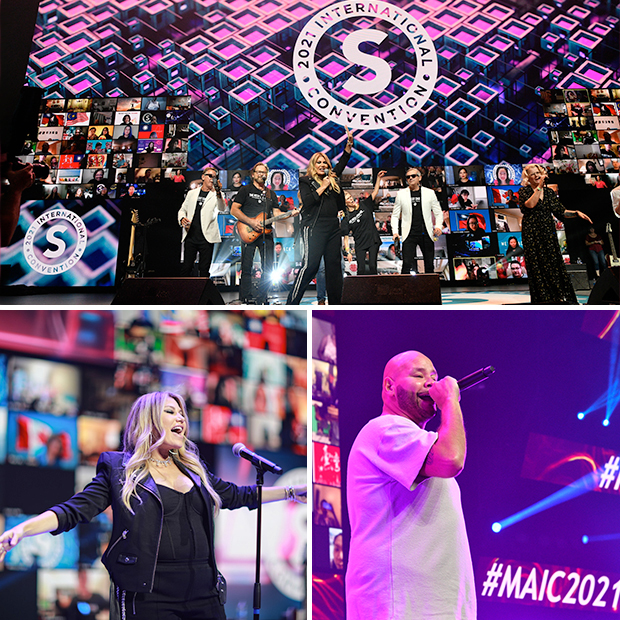 "For all of you who attended this year's event in person and to the tens of thousands who joined us online, I thank you for being a part of this year's #MAIC2021," said JR. "Thank you for being connected and staying connected! For those of you who came to Greensboro and for those of you joining us online, you continue to make this work. We are all making this work. It's a modern-day miracle!"
#MAIC2021 Announcement Highlights
New Products
As always, International Convention is a time when many exciting new products are revealed to enthusiastic attendees. Please click the links below to find out more about each new item!**
Neuro Focus™ Alertness, Attention + Focus
Shopping Annuity® Brand Premium Wellbeing Tea
Heart Health™ Blood Pressure and Vascular Support
Isotonix® Digestive Enzymes Trial-Sized Marketing Packs
nutraMetrix® Isotonix Daily Essentials Trial-Sized Marketing Packs
Layered – 19 new styles
Pre-order Now!
Motives® Sublime Eye Shadow Palette
Motives Sublime Luminizing Jelly
Motives Hand-Held Mixing Palette

Motives Lip Kit
New shades: Déjà Vu, Romance

Motives L A L A Liquid Lipstick
New shades: I Dare You, Dream On, Cinnamon & Spice
Lumière de Vie® Lift Up (Neck & Décolleté Crème)
New Initiatives
Several exciting new ways to build your business were announced at #MAIC2021. These new tools and programs will help you accelerate your UnFranchise Business so you can be even more successful.
The UnFranchise Marketing App just keeps getting more powerful. The next chapter for SHOP LIVE gives even more power to UnFranchise Owners. Beginning in October, UFOs can add a second presenter to their live event and will be able to see all the attendees on the screen. Then, in November, users will be able to save and archive SHOP LIVE shows to share with anyone who didn't attend. You'll be able to repeatedly leverage a strong show, which will still feature clickable products just like on the livestream. Also coming is an in-stream shopping cart and the ability to livestream from your mobile device.
In addition to the enhancements to SHOP LIVE, the UF Marketing App will also soon include Pulse. This new feature, now in development, will allow you to keep your finger on the pulse of a customer. You will be able to use it to view order history, get push notifications about customer actions, such as when they put something on AutoShip, and more. Then, you can follow up with just a click.
As a product brokerage and internet marketing company, Market America continues to establish partnerships that will benefit UnFranchise Owners (UFOs) and customers. "Sezzle is

a buy now, pay later processor, that has great approval rates for our UFOs and customers," said Steve Ashley, President and COO of SHOP.COM. "So, whether it's event tickets or Isotonix products, they can pay for it in four payments spread out over six weeks, and it's interest-free." Eddie Alberty, Vice President of Strategic Partnerships, had this to say: "Millennials are expected to be the main drivers of e-commerce spending growth for the foreseeable future and many of them don't even own, let alone carry, a credit card. In short, buy now, pay later is the preferred payment method of this hard-to-reach consumer group."
Steve also officially announced the use of cryptocurrency as the next chapter in purchasing products on SHOP.COM sites. The company has partnered with BitPay, the largest provider of cryptocurrency payment services, so that UnFranchise Owners and customers can make online purchases using their cryptocurrency. BitPay is the world's foremost payment processor of cryptocurrencies and has perfected the process, dealing in an amazing $1 billion in cryptocurrencies annually. Bitcoin, Ethereum, Dogecoin and several other tokens will be accepted at launch and will unlock a vast potential of new customer opportunities through the extensive outreach program Market America will be doing within the different crypto communities.
In beauty news, you can now create a custom skincare routine with products personalized to your exact skin needs and goals, thanks to the new Custom Skin Quiz feature on motivescosmetics.com. Once a customer completes the quiz, they will immediately receive their own custom skin report to guide them through the basic essentials or a full-on regimen based on their goals.
There have also been some new updates to the popular Motives Virtual Try Me feature. It's now possible to try on full-face looks, starting with the Motives Super Power Mattes Eye Shadow Palette. You can now virtually try on more than 100 shades of Motives products! Plus, you can try on all the exciting new items launched at #MAIC2021. To support your beauty product sales even more, there's also a new and improved Motives digital catalog that allows you to click directly through to the purchase page.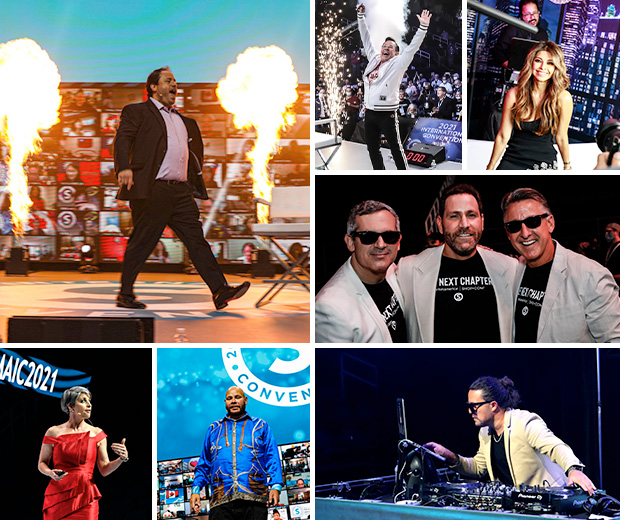 Relive the Excitement: Rewatch the Event and Utilize the 2021 International Convention Resource Playlist
The best way to experience the learning and excitement on tap at any Market America event is, of course, live as it's happening. But if you couldn't join — or if you just want to relive some of the electrifying energy of the event — ticketholders have until Sept. 15 to watch video replays of each session and the breakout events! All sessions are available in both English and Mandarin. Plus, you have access to all the videos and presentation resources listed below. Don't forget to share and utilize them to build your UnFranchise® Business!
New Products/Services
Motives® Sublime Campaign
Motives® Sublime Behind the Scenes
Save Time with Motives® Virtual Try Me featuring Maria Checa
Motives Sublime Eye Shadow Palette – Social Life Is Coming Back
Custom Skin Quiz: Find Your Personalized Skincare Regimen
Isotonix® Daily Essentials Trial-Sized Marketing Packs
Isotonix® Digestive Enzymes with Probiotics Trial-Size Marketing Packs
Heart Health™ Blood Pressure and Vascular Support
Neuro Focus™ Alertness, Attention, + Focus
Shopping Annuity® Brand Wellbeing Tea
nutraMetrix® Heart Health™ Blood Pressure and Vascular Support
nutraMetrix® Neuro Focus™
nutraMetrix Isotonix® Daily Essentials
nutraMetrix Isotonix® Digestive Enzymes with Probiotics
Other Promotions
MAWC2022 – Don't Miss This
MAWC2022 – The Next Chapter Continues
Motives® Press Sizzle 2021
Join our team as a Motives® Pro Artist!
Jumpstart your career as a Motives® Apprentice!
Lumière de Vie® Press Sizzle 2021
Layered by Amber Ridinger – Uncover New Layers
DNA Miracles® – Rise and Shine
Market America | SHOP.COM & Sezzle: "Buy Now, Pay Later" Available on SHOP.COM
Market America | SHOP.COM: SHOP LIVE Provides "Buy It Now" Interactive Events
Market America SHOP.COM Press Sizzle
Inspiration
Market America | SHOP.COM – The Next Chapter
MAIC2021 – Recap – Wednesday
MAIC2021 – Recap – Thursday
MAIC2021 – Recap – Friday
MAIC2021 – Recap – Saturday
MAIC 2021 – Saturday Night Celebration
Loren Ridinger Sizzle Reel 2021
Dennis Franks Interprets – Resetting the Clock
Highlights
MAIC2021 – Highlight Video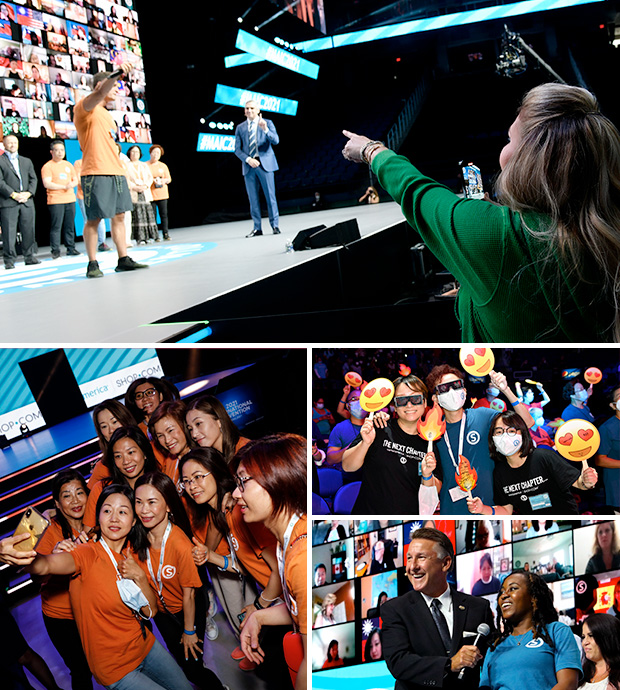 Leverage UnFranchise Blog Recaps
Want even more information about what went down during #MAIC2021? Read the session recaps on the UnFranchise Blog:
DAY 1
Day 1 Morning Session of MAIC2021: Marc Ashley, Motives, and The Four Cornerstones Of Market America
Day 1 Afternoon Session of MAIC2021: TLS, Business Building, and Dr. Deedra Mason
New & Improved Weight Loss & Lifestyle Profile by TLS
Join TLS for the 7-8-28 Challenge
DAY 2
Day 2 Morning Session of MAIC2021: Loren Ridinger, Marc Ashley, and Amber Ridinger-McLaughlin
Day 2 Afternoon Session of MAIC2021: JR Ridinger, Lumière de Vie, and Fat Joe
DAY 3
Day 3 Morning Session of MAIC2021: Steve Ashley, JR Ridinger, and Zoom
Day 3 Afternoon Session of MAIC2021: Recognition and The Close With JR Ridinger
SHOP.COM Now Accepts Cryptocurrencies Through BitPay
COVERAGE OF NEW PRODUCT LAUNCHES
Welcome the Newest Addition to Our Heart Health Line: Heart Health Blood Pressure™ & Vascular Support
Just Announced at #MAIC2021: What's NEW in Motives
Something New to Focus on: Neuro Focus™
Introducing The New Shopping Annuity Brand Premium Wellbeing Tea
Just Announced New LDV Products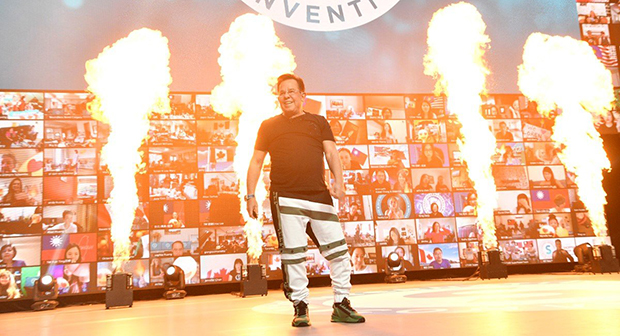 #MAIC2021 Receives Much-Deserved Media Attention
Market America's events always draw press attention. The Market America Worldwide | SHOP.COM 2021 International Convention media coverage includes press release distribution that was made available to an astounding total of 100 million consumers worldwide — reaching 21 countries around the globe! The pre-event media release was distributed by a total of 71 individual news outlets, and the post-event release has been distributed by 77 outlets and growing! Take a look at just a few examples of the media coverage our three-day event received below:

Pre-event release: Market America Worldwide | SHOP.COM's International Convention Brings the Next Chapter of Entrepreneurial Business Innovation to Life With New Ways to Shop Online, Interactive Livestream Sales Tools & So Much More
Post-event release: Market America Worldwide SHOP.COM's 2021 International Convention Kicks Off the Next Chapter Of Business Innovation by Introducing Global Cryptocurrency Purchasing on All SHOP.COM Sites, and So Much More
** Programs, products and services featured during #MAIC2021 and mentioned in this UnFranchise® News may not be immediately available in all markets. Please stay tuned to UnFranchise News for future updates.