We're excited to announce our first keynote speaker for October's
Market Singapore®

2018 Leadership School
! Kevin Buckman, Special Projects Consultant for Market America Worldwide, will join us onstage at the event and share his extensive knowledge with UnFranchise
®
Owners (UFOs).
Kevin has been a UFO for 24 years and worked throughout that time with Market America's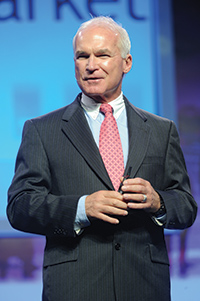 Corporate Team to
accomplish amazing things for all UFOs. His expertise includes procedure, program organisation and system analysis, and he was instrumental in bringing about the success of Market America's Global Meeting, Training and Seminar System (GMTSS). Kevin had years of experience to lead and coordinate One-to-One Marketing functions by developing and implementing long-term strategy, overseeing marketing activities against sales objectives, designing certification training curricula and teaching effective training solutions for Certified Field Trainers to support the company's fundamental objectives. His background in the business is why he's known to Market America as "The Professor!"
Kevin has been an inspiration for many p
eople after having built one of the most stable and consistent UnFranchise Businesses in Market America. Generating up to a six-figure U.S. dollar annual income, his success comes from being passionate and having intense and sensible approaches to his business. These focus on not just what to do, but how to do it, and why it must be done to realise the Two-to Three-Year Plan. Having the invaluable opportunity to learn from an industry expert like Kevin can definitely have profound effects on the growth of your UnFranchise Business.
Don't miss the chance to learn from our best speakers. More speakers will be announced soon for #MASGLS2018!
Market Singapore 2018 Leadership School
Date:
26–28 Oct.
Venue:
Singapore Expo Convention and Exhibition Centre, Exhibition Hall 2
Address:
1 Expo Drive, Singapore 486150
Price:
S$200.00
Code:
2190_SGLS18