The Best of 2017 World Conference
Market America | SHOP.COM's 2017 World Conference was held in Miami, Fla., Feb. 9-11 and was a resounding success. More than 25,000 people came to the American Airlines Arena for the event, which showcased exciting updates from the company including new technologies, new products and new strategic initiatives. If it was not clear before, World Conference hammered down the company's main goal and theme for 2017. The Shopping Annuity® is the wave of the future, and it can truly change the way that people shop by converting your spending into earning. It was absolutely our best conference ever, and set the tone for the 2017 International Convention where we will be celebrating 25 years of entrepreneurial success! If you were there, you are now equipped to grow your business like never before. If not, here is a taste of what you missed.

JR Ridinger's Special Follow-up Message for MAWC2017 Attendees
Dear UnFranchise® Owners who attended MAWC2017 in Miami:
Thank you for being at World Conference and making it a magic moment for Market America and SHOP.COM. I hope this event inspired you to change something, and I pray you will join me in reaching the milestone of 50,000 Shopping Annuity® Master Members. We can change the world and create our own economy and when we reach that tipping point the Shopping Annuity Revolution will become unstoppable.
I want to make sure that you get the most out of your time at MAWC2017 and get a massive return on your investment. That's why I created a short PowerPoint file with 11 slides that gives you my "takeaways" and "challenge" from MAWC2017, as well as 5 Simple Exercises to help put into action what you learned at World Conference. I didn't have time to cover these particular slides during my closing presentation so this is the only way you'll be able to access this crucial follow up information for MAWC2017.
You can access this important PowerPoint here: Follow Up To World Conference
Reviewing this file is so important because it can be used to ensure your investment of time and energy at World Conference really pays off so you can leverage results, experience growth and increase your ongoing income. This will help you build on the momentum of MAWC2017 by helping you immediately start changing things and stepping out of your comfort zone so you and your team can start climbing the stairway to success with the daily, weekly and monthly steps.
These are steps that anyone can easily take! You can do it! The journey of a thousand miles begins with a single step… and tomorrow is the first day of the rest of your life!
During Friday's session at MAWC2017 I trained the field on how to build the business and reach new UnFranchise® Levels. I focused on the Basic 5, the method to the madness, ABC Pattern, and exponential leverage in the formula of the business. During my presentation you promised to assess and identify what business fundamentals you were not doing so you could discover areas where you can improve. You were asked to also identify parts of the Basic 5 that you were not doing consistently, which helps you reset the 2-to-3 year clock back to the correct time. This allows you to forgive yourself and start fresh!
Everyone in attendance agreed to do this and to set their clock back. I hope you set it back and can tell me what the new number is on the 2-to-3 year plan's clock. What is your time?
You and your entire team can access the stage presentations and promotional videos from World Conference on UnFranchiseTraining.com and MeetON.com (see announcement below for direct links to each session). I suggest you review these videos with your team to help them capitalize on this monumental event. You may even want to select relevant ones for partners or new UnFranchise Owners (UFOs) and prospects and send it to them via email, text, or social media.
If you want to succeed you must demonstrate your belief and acceptance of the new you, the UnFranchise Business plan and goal. If you don't demonstrate it, you do not totally believe or accept what you deserve and will inevitably NOT get what you want. Only by demonstrating belief through your actions will you fulfill your destiny and unlock your full potential. A good test of that is whether or not you have at least 3 tickets to MAIC2017 – the 25th Anniversary celebration of our business in Greensboro, N.C. this August. By not having tickets you're jinxing yourself by setting up a roadblock that will prevent success!
Between now and August it needs to be your primary mission to get every "GoNow" there for International Convention. The only shortcut to success is getting people there – it's as simple as that. If you're a leader who's committed to jumping UFO income levels, you need to have 10 tickets. You either have the tickets or you do not. You cannot sell a ticket you do not have. It's also another great opportunity to Pay It Forward and help get other teammates to the event who might not otherwise be able to come.
Show me you're a leader by sharing this message with your teammates and prospects who attended MAWC2017 and asking them to do the same.
Remember, the difference between success and failure is the successful person did what the person who fails did not do! In that sense, SUCCESS IS A CHOICE! We love you and believe in you, but you'll never make it happen if you don't believe in yourself first!
I believe in you. Keep Growing!

- JR Ridinger, Chairman and CEO


World Conference Announcement Highlights
New Products: Some amazing new products were launched at this event. Find out more by clicking the links below.
Motives® by Loren Ridinger: Motives cosmetics just launched the much anticipated 2017 Spring/Summer Collection, Inspired By You!
DNA Miracles: Complete with five brand new products, the all-new DNA Miracles Natural Kids line is an extension of the Naturals line, making sure your little miracles can grow with the brand.
SHOP Local: Market America Worldwide President and Chief Operating Officer Marc Ashley gave exciting updates on the latest news about SHOP Local, which continues to expand. Remember, you can link as many credit cards as you'd like and you will earn Cashback on all qualifying purchases at SHOP Local stores. Click here to link your cards today.
Shopping Annuity® Technology Advancements: Marc had some major announcements during his two days on stage. One of the most exciting announcements was about better functionality within the UnFranchise Business Account! He also showcased the newest version of Shop Buddy®, the digital personal shopping assistant that just keeps getting better.
New UnFranchise Business Presentation Video: The new UnFranchise® Business Presentation video is now available on Market America's YouTube channel. The video provides a consistent source of information and is meant to help UnFranchise Owners become master recruiters. "Use the videos and segments to your advantage," advised Vice President of Sales Jim Winkler when it was announced. "Talk with your recruits while you watch the video, interact, ask questions–it will only help your business."
Fat Joe Delivers a Vibrant Presentation: Joseph "Fat Joe" Cartagena took the stage this weekend to deliver a high-energy, inspirational speech that had the crowd cheering for more. After his presentation, he performed the hit song "All the Way Up," which was nominated for two 2017 Grammy Awards.
Want even more info about what went on at the event? Read the daily morning and afternoon session recaps on the Market America blog:
Day 1 recaps: Morning | Afternoon
Day 2 recaps: Morning | Afternoon
Day 3 recaps: Morning | Afternoon
Plan Ahead for August to Celebrate 25 Years
Everyone who attended had a great time at World Conference, and we encourage you to purchase your tickets to the Market America | SHOP.COM's 2017 International Convention before they sell out! This extra-special event is Market America's 25th Anniversary – join us as we celebrate 25 years of entrepreneurial success! Click here to get your tickets now! See you in Greensboro!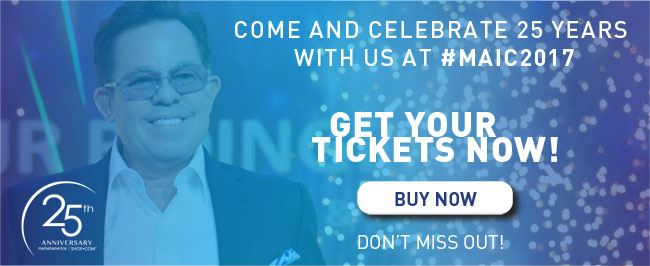 2017 World Conference Rocked the Media World
Market America | SHOP.COM's World Conference was an amazing blend of star power and people power with over 25,000 entrepreneurs on hand to show their love for the UnFranchise. It was a special event for all of us, filled with learning opportunities and new experiences that will help inspire success and make your dreams a reality. It's also a brilliant branding opportunity for the company, as publications from around the globe covered the MAWC2017 story. Below you'll find a list of media hits from World Conference as well as the official MAWC2017 press release that also made a huge splash. Word is clearly getting out about the power of the UnFranchise® Business! Watch the videos, read the articles and see dazzling pictures at the link below. Share these great stories today to show all your followers how exciting it is to be part of the Market America Worldwide family.
Media Hits:
Spanish Press:
Press Release Coverage: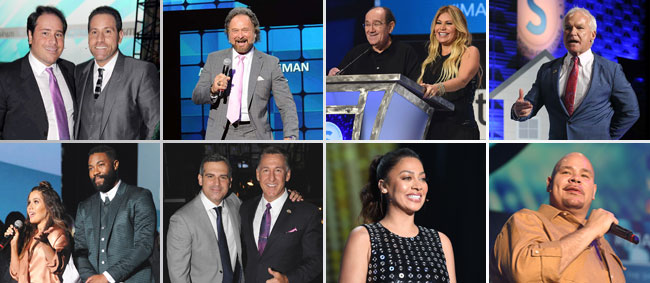 Relive the Excitement With the Complete 2017 World Conference Stage Presentations Video Playlist
Market America | SHOP.COM's 2017 World Conference provided all the news, information and strategies for running an effective UnFranchise® Business, but only by being present can you truly gain the momentum to make the most of it. For those who couldn't attend, get all the invaluable information that was provided by watching the detailed presentations with integrated PowerPoint presentations on MeetON.com.
If you're a serious UnFranchise Owner looking for the ultimate learning tool, this is the option for you. With integrated PowerPoint slides you've got an additional level of information right at your fingertips and can relive the event just as it happened! These sessions cost between 20 and 35 credits, but that's a small price to pay considering all the extra knowledge you'll glean from the PowerPoint presentations.
Videos available on MeetON.com include (available in English only):
Welcome to Market America's 2017 World Conference | Loren Ridinger

Work Smarter Rather Than Harder | Andrew Weissman, Jim Winkler

Shopping Annuity® Tools | Chris Peddycord, Elsi Pacheco

All The Way Up | Joseph "Fat Joe" Cartagena
Powered By People: Recognizing Your Success Part 1 | Andrew Weissman and Dennis Franks

Stay In Your Prime | Andrew Weissman and Scottie Pippen

Be Powerful with Motives® | La La Anthony
Inspired By You: It's Your Time to Shine with Motives® | Maria Checa, Lisa Martin and Brandy Holden
Combining the Old and the New, MPCP1 = Basic 5, MPCP2 = Shopping Annuity, Uberization of the Shopping Annuity | JR Ridinger

Power Profile | Don Martin

nutraMetrix®: Creating Success by Leveraging the Power of Healthcare | Brandi Murphy
TLS® Weight Loss Solution. The Lifestyle. The Business. | Dennis Franks and Susan Pasqual
#MAWC2017 | Andrew Weissman

UnFranchise Media App | David Whited

Everything You Need to Build Your Shopping Annuity: SHOP.COM, SHOP Local and More | Marc Ashley, Steve Ashley, Eddie Alberty and Chifu Chen

GMTSS: A Call To Action | Jim Winkler

Power Profile
Increase Customer Sales through Lifestyle Marketing with Conquer | Amanda Ridinger and Michele Molinaro

Lumière de Vie® | Amber Ridinger-McLaughlin and Kim Ashley

Powered By People: Recognizing Your Success Part 2 | Andrew Weissman and Jim Winkler

Master Building Techniques with the Basic 5: Method to the Madness | JR Ridinger

Power Profile

Built on Product | Dennis Franks and Kevin Buckman
#MAWC2017 | Andrew Weissman

Snap™ Essentials | Marty Weissman

DNA Miracles® 360 Experience | Amber Ridinger-McLaughlin, Duane McLaughlin, Marty Weissman and Brandi Murphy

Power Profile

The Power of Pycnogenol | Dr. Steven Lamm

Out of Bounds | Loren Ridinger

Jerry Siciliano Award | Loren Ridinger and Marty Weissman

Power Profile
Powered By People: Recognizing Your Success Part 3 | Andrew Weissman and Jim Winkler

Everything You Need to Grow and Manage Your Business | Marc Ashley

Belief, MPCP1 + MPCP2 + MPCP3, The Why That Changes the World | JR Ridinger
nutraMetrix® Breakout Session
Hosted by Brandi Murphy and Deedra Mason
TLS® Breakout Session
Hosted by Susan Pasqual
Shopping Annuity® and SHOP Local Breakout Session
Hosted by Elsi Pacheco, Eddie Alberty, Michael Brady, Carl Eklund and The Shopping Annuity Ambassadors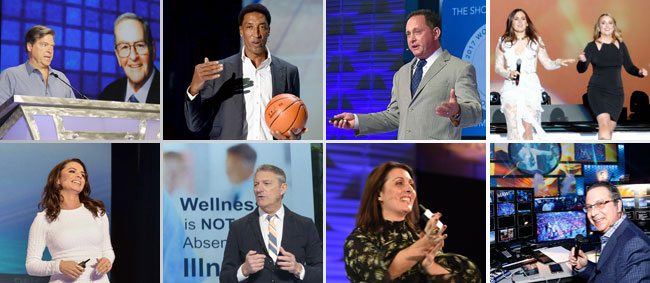 Share the Best Videos from the 2017 World Conference
One of the best things about our events is the surge of new content available for UnFranchise® Owners that can really make a huge impact on their branding and business building initiatives. One simple and efficient way to build momentum for your business and spark a conversation about the UnFranchise Business is to share our official event videos.
Click here to see a great list of videos that were featured at #MAWC2017, which UnFranchise Owners should be sharing online via emails, blogs and social media. It's a great way to continue to leverage this life-changing event even after it's over. Do your part as an UnFranchise Owner and keep the #MAWC2017 momentum going strong by sharing these videos.

Use All Your Tools: Read and Share the Event Program
Market America | SHOP.COM's 2017 World Conference Event Program includes additional information that you won't find anywhere else. You'll find valuable articles on topics including the UnFranchise®Virtual Partner (UFVP), the UnFranchise Mobile Toolbox, new business-building materials and TLS®. The program PDF is perfect for sharing select articles with prospects who may have further questions. Check it out for yourself!
Click here to download the full program PDF. (Available in English only.)


Strive to Meet the 2017 Chairman's Challenge
One of the most prestigious awards an individual can earn as an UnFranchise® Owner is to become a Chairman's Challenge award winner. The Chairman's Challenge is issued by Chairman and CEO JR Ridinger. UnFranchise Owners who satisfy the Chairman's Challenge criteria will be provided with preferred seating at the 2017 International Convention, invited to a private reception with the Corporate Team and will be recognized on stage.
Ultimately, by striving to achieve the Chairman's Challenge, an UnFranchise Owner is closer to achieving their personal and financial goals. The 2017 International Convention Chairman's Challenge runs Dec. 10, 2016 – June 9, 2017. Click here to learn more about the criteria. (The file is available in English only. Translations will be available on UnFranchise.com soon.) To start working toward this and other challenges, download the entry forms by logging into your UnFranchise Business Account > Downloads > Support Materials > Category: Choose General Business Building, Motives®, TLS®, maWebCenters, nutraMetrix® or Conquer > Subcategory: Challenges.