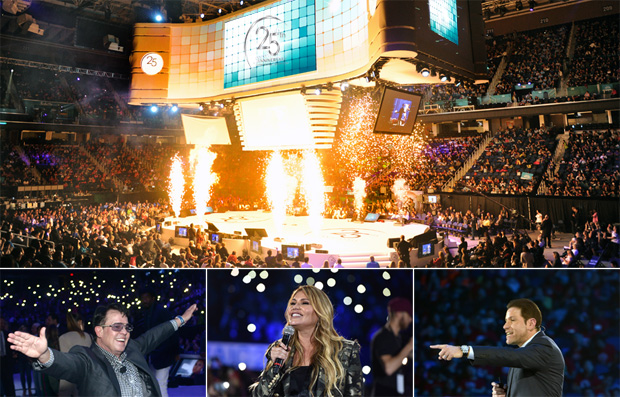 The Best of 2017 International Convention
The 25th Anniversary Market America | SHOP.COM 2017 International Convention held in Greensboro, N.C., Aug. 9–13, was a magical event! The more than 20,000 people who came to the Greensboro Coliseum experienced a convention that topped all others in company history, with memorable silver-anniversary arrangements and events. A specially designed stage at the center of the arena brought excitement and intimacy to the event for those on the floor, while offering excellent views to everyone in both levels above. The setup helped emphasize that Market America truly is a family, sharing in the struggles and triumphs that we celebrate as 25 years of entrepreneurial success.
The Shopping Annuity® remains the heart and soul of this business, and at convention the Corporate Team and field leaders described initiatives that will help ensure UnFranchise® Owners are making the best and fullest use of it to convert their spending into earning. Market America is uniquely positioned to help people create the economy of the future; a fond look at the company's humble beginnings made clear that there's never been a better time than now to grow your business. At 25, we're just getting started!
If you were there to see us celebrate 25 years of changing the world by changing how people shop, you felt the magic. If not, here is a taste of what you missed. Be sure you have your tickets to the Market America | SHOP.COM 2018 World Conference in Miami next February!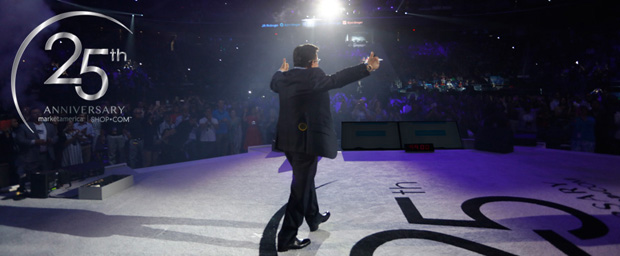 Thank You for Attending the 2017 Market America International Convention
A special message from Chairman and CEO JR Ridinger
I must say #MAIC2017 was without question one of the most incredible times in the entire 25-year history of Market America. This weekend's event was 25 years in the making, and it was filled with magic moments.
We've come a long way in 25 years, from a small group of dedicated visionaries to an international entrepreneurial powerhouse. We've changed with the times but we've never strayed from our original vision. The Shopping Annuity was always the original mission — but it took 25 years for the technology to catch up with the concept.
In the beginning all we had was belief and a business plan unlike any other. These two things combined to form the most powerful entrepreneurial opportunity the world has ever seen, which turns the tables on the status quo and helps people wield their collective economic power. With the Shopping Annuity, I have no doubt that one day we will fill an entire arena with Directors. You just have to believe, identify your why, and take action.
We're in the right place at the right time, and by attending #MAIC2017 you've already taken a big step to fulfilling your dreams. You just have to follow the system and apply what you learned here this week. Knowledge means nothing without application and duplication. What will you tell your teammates who didn't come? Better yet, what will you do differently with your business when you return home?
Use this event as a springboard to reach the goals and dreams you aspire to achieve. Share what you learned and help foster the same type of belief that helped hundreds of people become millionaires with the UnFranchise. You have that same ability within yourself.
I'd like to personally thank each and every person who attended International Convention and for taking the time out of your busy lives to listen to us speak about this incredible business. For me, seeing you here is a magic moment because this entire business began with just one tiny spark. An idea, a vision, and dream that took 25 years to fully manifest. Thank you for being here with us to witness it.
Now let's get out there and change the world.
I believe in you. Keep Growing!


– JR Ridinger, Chairman and CEO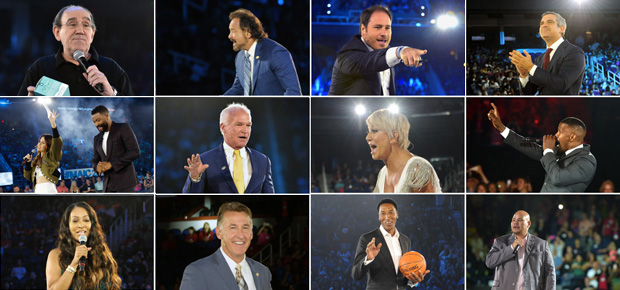 #MAIC2017 Announcement Highlights
New Products
Some amazing new products were launched at this event, including the new line of Isotonix Essentials™. Find out more by clicking the links below.
New Initiatives
As we celebrated 25 years, we looked ahead to many more years of even more entrepreneurial success. Several exciting new ways to build your business and boost retail sales were announced at #MAIC2017 to help make that success possible. Here's a quick look at some of them, both those available now and those you can look forward to in the future:
The 360º Shopping Annuity® experience – Vice President of Business Integration Chris Peddycord described a new, more focused Shopping Annuity process with personalized recommendations based on what an UnFranchise® Owner puts in their Shopping Annuity Assessment and what they buy. The assessment report will be organized by where you actually store products in your house — for example, your kitchen pantry — and these categories will be grouped for you in your Shopping Annuity AutoShip. You'll see up to six store recommendations for each category in the assessment. And SHOP Local has been added to the last page of the assessment.
UnFranchise.com is being rebuilt so that every product page will be fully responsive, meaning they will display properly and with full functionality on mobile devices. Coming next year, a streamlined checkout process on UnFranchise.com will allow you to purchase products with just two clicks.
Cashback and IBV has been increased on hundreds of SHOP.COM Partner Stores, bringing back more of the money stores are making as a result of purchases by you and your customers.
The new SHOP.COM Home Warranty program will protect all major appliances, HVAC, home electronics and more — and will offer 25% IBV each month you have coverage.
President and Chief Operating Officer Marc Ashley wowed the crowd with word of a new online interior design service, in partnership with Havenly, that not only greatly reduces the cost per room compared with typical design costs, but pays Cashback and IBV, too. Senior Executive Vice President Loren Ridinger showed the crowd slides of actual rooms she designed using the new service, at a cost of $79.00 to $199.00 per room compared with an average interior-design cost of $4,200.00 per room. (Use the code Loren3 to get $50.00 off!) A new STYLE.SHOP.COM page is planned; you'll be able to take a Havenly-designed room's web page, drop it into STYLE.SHOP.COM, and all the furnishings that create your design will be automatically added and ready for you to purchase.
Marc introduced the new SHOP.COM MasterCard Gift Card that you can use anywhere and receive an instant 2% IBV. Look for the card to be available soon. His top tip: Use your SHOP.COM MasterCard (the black card for UnFranchise Owners or the platinum card for Preferred Customers) to buy the new MasterCard Gift Card; use that card to buy a Partner Store gift card on SHOP.COM through the eGift Card Center, and apply that store card discount to your purchase of items from the store. "I've got Cashback, IBV and BV on the same purchase," Marc said.
Kevin Curley, Executive Director, Front-End/Interactive/Mobile Development, announced the new SHOP.COM assistant for Alexa, available as a skill for your Alexa device. He demonstrated how you can say, "Alexa, ask SHOP.COM to order OPC-3," and the device makes it happen. But set yourself up the smart way: SHOP.COM President and COO Steve Ashley said you can get your Alexa device at Partner Stores for less than on Amazon, and get Cashback and IBV to boot.
The SHOP.COM app has been updated to include Shopping Trip functionality like that found on the desktop; a new social commerce function; enhanced Hot Deals presentation; and SHOP Local enhancements to page refreshes, maps and filter results.
In one of the most exciting presentations, Marc previewed a new virtual reality system that will let you learn about Market America through interactions with virtual Corporate Team members, as well as purchase products in a virtual mall without malls. "You'll be able to go into the Motives store and it'll be a beauty counter display, with Loren talking to you," he said. As a UFO learning the business or educating prospects, "You'll have a virtual experience from day one with JR talking to you." While this system is now only a prototype, Marc said, Market America is devoting significant resources to make it a (virtual) reality.
Want even more info about what went on at the event? Read the daily morning and afternoon session recaps on the Market America blog:
Day 1 recaps: Morning | Afternoon
Day 2 recaps: Morning | Afternoon
Day 3 recaps: Morning | Afternoon
Day 4 recap